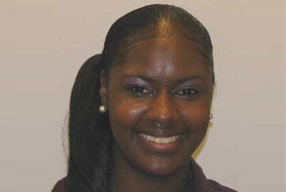 Whitney Sion
Food & Beverage Buffet Cashier
Evangeline Downs Racetrack & Casino
---

How long have you been with the property?
I have worked at Evangeline Downs for 9 years.

What does Boyd Style mean to you?
Teamwork and working smart.

What would you tell someone considering a career with us?
There are many opportunities available if you are willing to put forth the right effort, to learn your job and be a team player.

What do you like most about your co-workers?
We have a good time and try to make our job fun by sharing of ideas to improve our designated jobs.

What benefit do you value most with the company?
Our company paid time off (PTO) program.

What's the best part about working here that an applicant can't see by walking around?
Having fun day in and day out when on duty and interacting with our guests.

What has the property or company done to help the community in your area?
Our property, Evangeline Downs, always assists within the community. Recently, we completed our United Way campaign and exceeded our goal and we participated in a local Cancer Awareness Relay for Life where we won first place with our tent design.