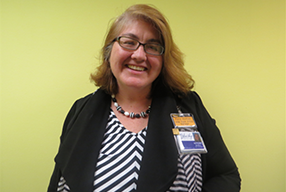 Kate Komay
Hotel Front Office Manager
Blue Chip Hotel and Casino
---

How long have you worked for Boyd and why did you choose to work here?
It will be 6 years in December. I started when the new Hotel was opening on the grave shift. I really wanted a job close to home where I could work overnights. My children were small and I have no family in the area so I needed a job that gave me flexibility for them. I started with a position that developed into a career path that still meets my external needs.

What do you like most about your property, position, department or company?
The diversity of my job and my team is what I like most. There are so many things that go on behind the scenes to make everything work. When the guest checks in, it's all invisible to them. When they are happy - we have done it well! I really love working with the public and my staff. I feel very blessed every day to have a great team of people to work with and to work in such a beautiful environment. It's a great place to have a hospitality job. I still like that I am close to home- especially in the winter! My son has his own job now at the outlet mall and sometimes he walks over and meets me!

What would you tell someone considering a career with Boyd?
Be yourself. There is opportunity for everyone. It takes a lot of different people and types of people to put together this type of destination that services nonstop 24 hours a day 365 days a year.

What's your favorite story about working here?
A few years ago, for a very short time, I had the honor of working with a team member who was really extraordinary. Her luck was down. Not many people knew she had lost her house. She also had small children and her family had many needs but she was always so positive. One day she made an observation about me and gave me some unsolicited advice. Because I admired her personal courage so much, I really thought about it and decided to take her advice. My life changed for the better - not just at work, but everywhere. I carry that advice daily and am amazed that one person can make such an impact on a virtual stranger. She did a service to me that I hold as a reminder to be of service to others.

Describe a day at work.
Job description: Must love change - A typical day is Crazy. In a good way. There are thousands of tasks to be taught, delegated or handled. Every day I speak with guests, usually ones who have something needing resolution. I take it as a personal challenge to make things right for the least amount of freebie! I spend a lot of time with my supervisory team. I like them to feel prepared and communicated to and expect they will follow suit with our front line team. I delegate quite a bit so I am always training. I am a big follow-up person. If I ask, I will check back to make sure it's done. I also spend a significant amount of time resolving team member concerns. I really trust that they are the success of our business and take their counsel seriously. I meet often with directors and other managers to discuss their concerns and seek out resolutions or solutions. In between all that, I manage the inventory and pricing, work closely with group sales and the concierges and do a myriad of unbelievable things - which I have no idea how I learned to do!

What does Boyd Style mean to you?
Treat the guest and the team with respect; it's the reason we're here. Have fun when you can but keep it professional! Try to make someone's day.

What do you think separates Boyd from other companies?
I think we get great communication and direction. The rules are pretty clear and the appreciation is nice. I've worked for other places where these were lacking.

Who do you admire most at work?
Our housekeeping staff! We fill a minimum of 10,000 rooms a month. Imagine the physical labor it takes to turn all those rooms day after day! I've seen them work in the cold, in the heat, 9 months pregnant! The work ethic is inspiring! There is a lot of teamwork there as well.

What has been the greatest opportunity that you've had since you started working at Boyd?
I loved working downstairs in the F & B offices last summer. It really gave me a chance to get to know people in other departments. Sometimes the hotel can be its own world!

On a personal note:
Boyd is not my first career outside of parenthood. Before my kids were born, I was fast tracked at Sears Corporate, where among other jobs, I was a professional campus recruiter, automotive buying strategist and marketing media planner. I've done a lot of volunteer work, including sexton (look it up!) and am especially concerned with children's literacy. I have a secret long time admiration of all things F & B! My mother owned a successful catering company in Chicago and my first job was catering (not for my mom!) in Chicago. If I didn't have to earn a living I would be an artist.
My family is my number one priority and I am the proud mom of two wonderful boys! My oldest is graduating Michigan City High School this year and my baby will be a freshman at Michigan City High School next year. Go Wolves!