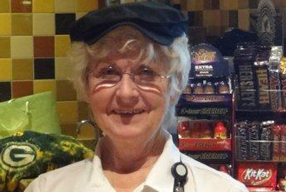 Joanie Derdarian
Deli Food Service Attendant
Diamond Jo Casino – Dubuque, Iowa
---
Joanie is the first Boyd Gaming Team Member of the Month at Diamond Jo . We recently asked for her insights into being a successful team member with Boyd Gaming. Here's what she had to say:
How long have you been with the property?
I have been with Diamond Jo for over 18 years.

What do you think separates Boyd Gaming from other companies?
Boyd Gaming has many more opportunities as they own 22 properties across the United States.

What do you like most about your co-workers?
Boyd Gaming team members have a great work ethic. We have a lot of fun and have known each other for years. We have gotten to know our customers and call many of them friends.

What's the best part about working here that an applicant can't see by walking around?
The friendships you can build with your customers and fellow team members, as well as the fun we all have.

What benefit do you value most with the Company?
I enjoy the freedom to engage with customers as well as the ability to use your discretion in certain situations. It's about valuing the relationships we have with our customers.

Boyd Gaming believes in giving back to the community. Tell us about how you participated in that?
Diamond Jo provided me with turkeys to give to the local Rescue Mission during the holidays. I think this is great to help those less fortunate.

What does Boyd Style mean to you?
One word – Integrity.