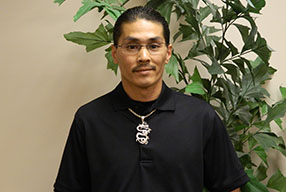 Brian Collado
Bowling Desk Clerk
Suncoast Hotel & Casino
---

What does Boyd Style mean to you?
At the Suncoast its providing service to our guests and fellow team members with a friendly smile and giving our guests 100%.

What would you tell someone considering a career with us?
Boyd is a good place to work as they offer a lot of room for growth and advancement.

What do you like most about your co-workers?
Our team members are easy to get along with and very friendly.

What's the best part about working here that an applicant can't see by walking around?
The fact that management is willing to help in every way.

What benefit do you value most with the company?
The people I work with and the company discounts Boyd offers its team members.

What has the property or company done to help the community in your area?
At the Suncoast we host regular blood drives for our community which I feel is great.