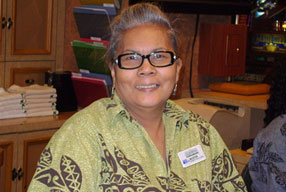 Alicia Duty
Players Club Representative
California Hotel & Casino
---

How long have you worked for Boyd?
I've worked at the Cal for 11 years.

What would you tell someone considering a career with Boyd?
It's a fun place to work.

What does Boyd Style mean to you?
Smile, helping guests and team work to make the guests happy.

What do you think separates Boyd Gaming from other companies?
We're like a family.

What has been the greatest opportunity that you've had since you started working at Boyd?
I've had the opportunity to learn a lot.